You can have a successful marriage. At San Jose Counseling we assist our neighbors looking for couples and marriage counseling in Campbell Ca. Campbell ca  is just one of the many cities in Santa Clara County and it neighbors San Jose.  The therapists at San Jose Counseling provide couples counseling and marriage counseling in san jose to many different couples. Some of our couples come in for maintenance and to learn a few techniques to spice up their marriage. To turn on the intimacy level. Others have difficult marriages or are in real trouble. Whatever your situation may be, we have couples counseling or marriage counseling services that will work for you.
 Local Campbell Ca Couples and Marriage Counseling
If you and your spouse are caught in a bad cycle, let us help you. Most couples argue about the same issues, in the same way, around the same time. It slowly chips away at the marriage. The love you had for your spouse seems to slip away. Instead, you may be so angry that you resent your spouse. With marriage counseling, we can equip you so that you can get out of this cycle. We will provide you with practical tools to catch the cycle before it happens to change the dynamic in your relationship.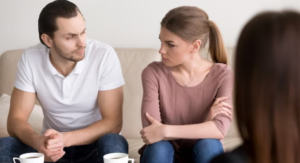 Reignite the passion of your marriage or relationship. Fall in love again, and this time with a deeper level of intimacy and understanding.  Couples who nurture their marriage have more long-lasting and satisfying relationships. Professional marriage counseling provides you with the safe environment to find out what may be going on in your marriage so you can save it.
Invia A. Betjoseph, LMFT, CSAT is a specialized couple and marriage counselor and therapist. He is respected in the greater Bay Area, including Campbell, CA. Invia has over two decades of work with marriage and couples counseling and is an expert in helping those where addictions, affairs, or other serious issues plague the relationship. Prevent these issues from taking over your relationship. It's time to take the first step for couples counseling or marriage counseling.  Together, we can make your relationship great.
If you would like to know more about how our couples counseling, couples therapy, and marriage counseling in Campbell Ca services can help you contact us for more information.